FESTIVALS
Berlin Brass Festival (Berlin, Germany; 2019)
Holika Festival (Cortes, Spain; 2019)
Festival OFF Artes Vivas (Loja, Ecuador; 2018)
Brass It (Minde, Portugal; 2018)
Sibiu International Theatre Festival (Sibiu, Romania; 2018)
Limoux Brass Festival (Limoux, France; 2018)
Brass International Festival (Durham, UK; 2017 y 2018)
Almazán Suena (Almazán, Spain; 2018)
Boina Fest (Arenillas, Spain; 2018)
Festival Moustussades (Villemoustaussou, France; 2015, 2016 y 2017)
Andorra Sax Fest (Andorra; 2017)
Sol y fiesta (Leucate, France; 2016)
Tubala Brass Week (Tafalla, Spain; 2016)
Asalto ao Castelo (Vimianzo, Spain; 2015)
Bandafolies (Limousin, France; 2013)
Reperkusión (Ourense, Spain; 2013)
Pirineos Sur (Huesca, Spain; 2012)
Tamborilé (Mezquita de Jarque, Spain; 2011)
Mundo Idiota (Madrid, Spain; 2009)
AWARDS
First prize at Sabiñanigo's Brass Band Battle (Huesca, Spain; 2011, 2012 y 2013)
First prize at the 1st National Contest of Brass Bands in Escucha (Teruel, Spain; 2012)
First prize at the 4th Brass Band Contest in San Fermín (Pamplona, Spain; 2012)
DISCOGRAPHY
Punkis de conservatorio (2018)
Felices agujetas (2013)
Artistas del Gremio & the musicolocos dream team (2009)
FILM AND Y TELEVISION
Finalists in the TV show Tú sí que vales [Spanish version of Got Talent] (2013)
New Year's Eve TV Galas in Aragón TV (2011, 2012 y 2013)
Soundtrack recording for the Spanish film Que se mueran los feos (2010)
Official band for TV show Avispas & Tomates de Aragón TV (2006 y 2007)
Other TV show performances: Aftersún, Sin ir más lejos, Objetivo, ¿Te suena?, Anochece que no es poco o Aragón en abierto.
COLABORATIONS
Los Gandules
Manolo Kabezabolo
Juan Abarca (Mamá Ladilla)
Sharif
Fuethefirst
Preso de la prosa
Paco Pil
Tako
María Villalón
Sorry, but that's the way we are!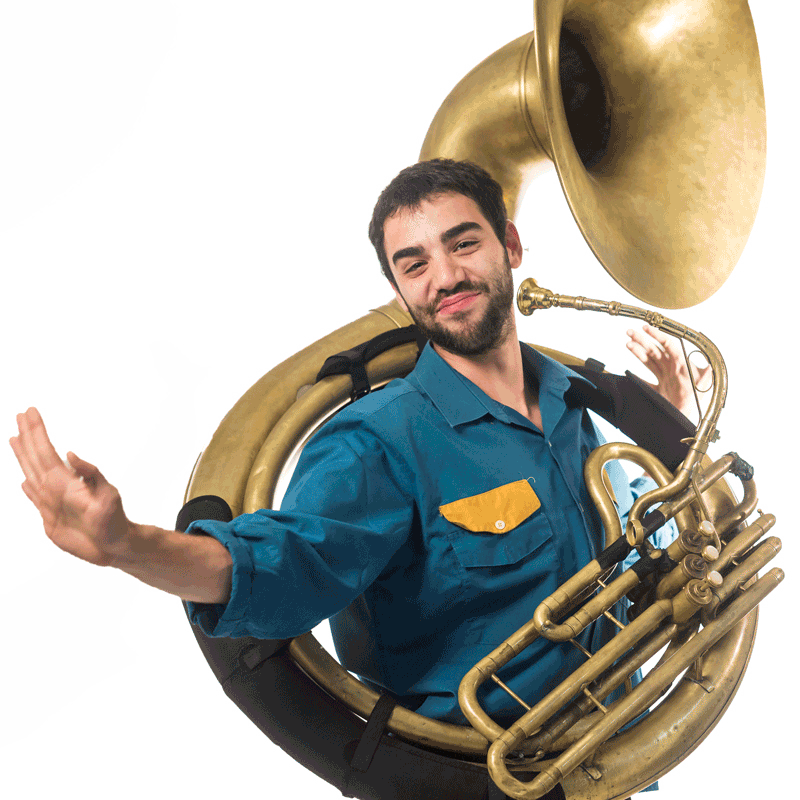 Angelín
I was born in Cheste, Valencia. My instrument and my eyebrows are bigger than me. When I carry my helicon, I can jump like a regular person. Without it, I move jumping like a kangaroo.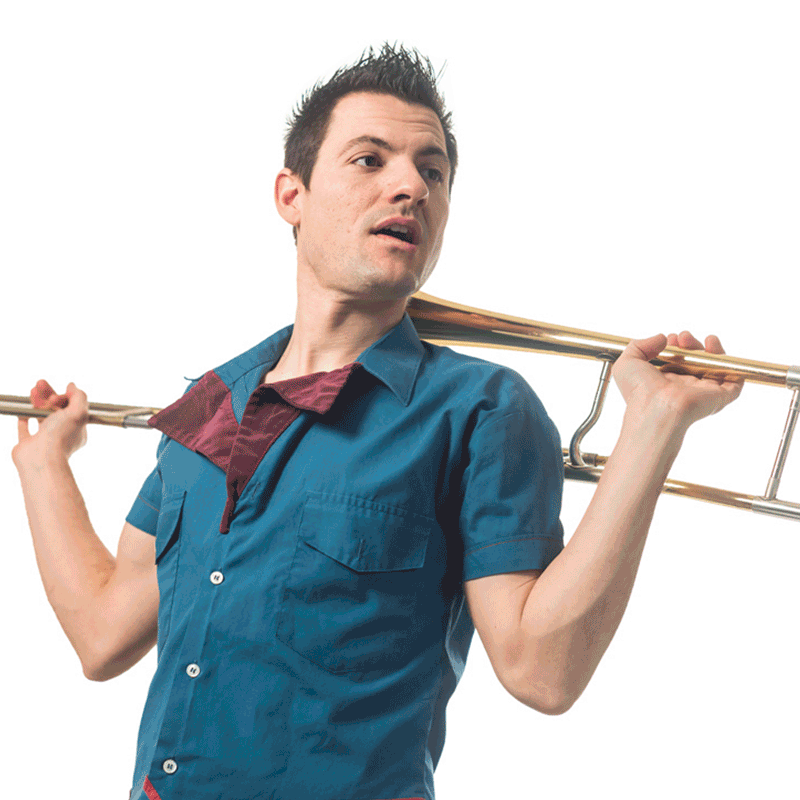 Rober
The trombone is a pretty instrument because it has straight lines but also curved lines. I once dropped a penny and didn't find it back.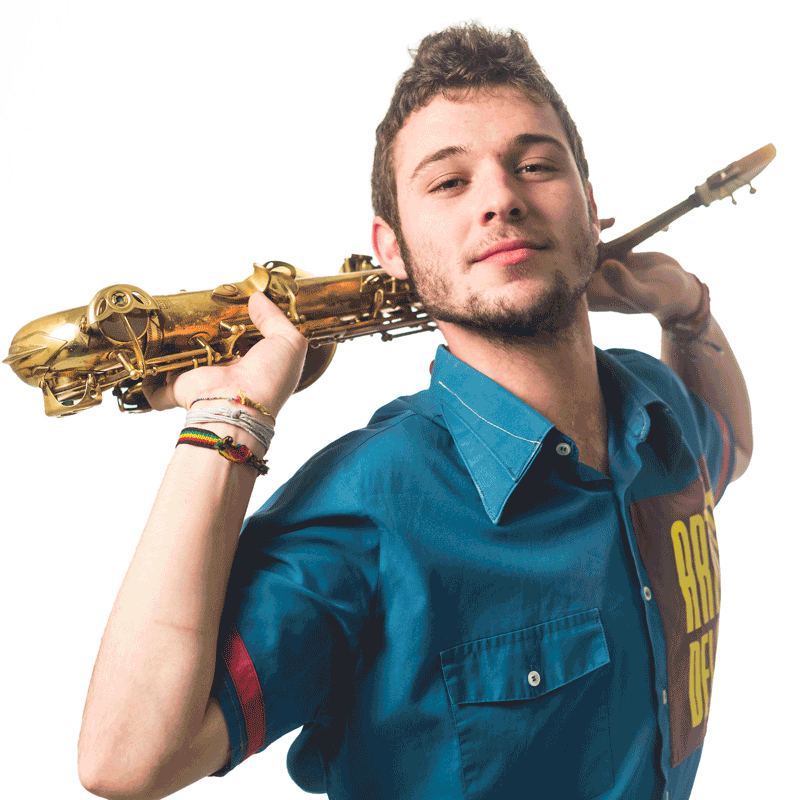 Carlitos
I'm the handsome of the band. If I look at you sensually while I'm playing the saxo your brain will maybe dissolve. Calm down and stop staring at me!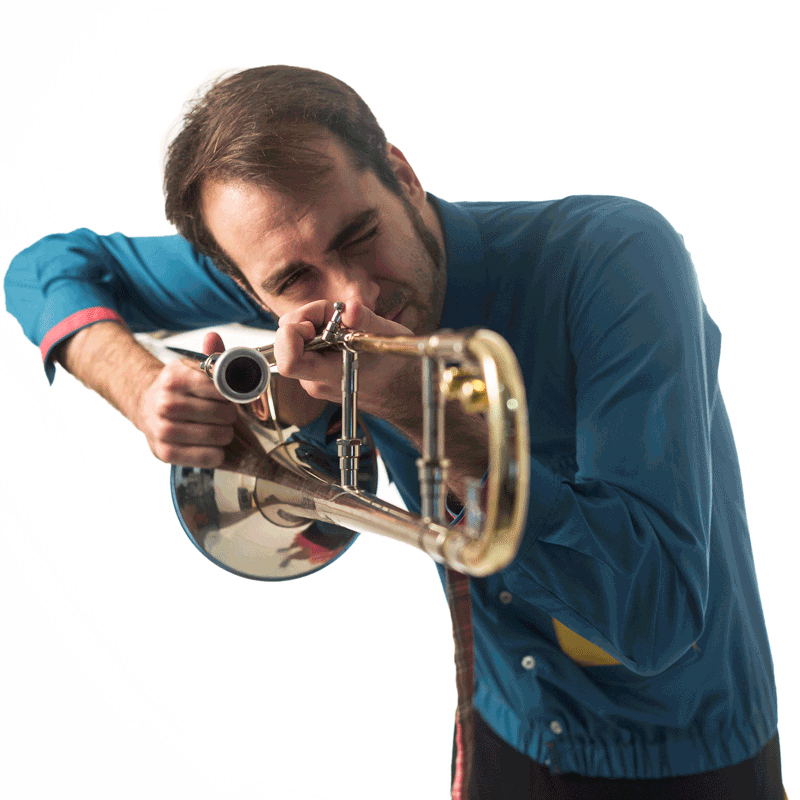 Mateo
I play the trombone because the otamatone didn't fit in the band. I got a Master Degree from Berklee College of Music, but I'm popular for my good imitations of a cow.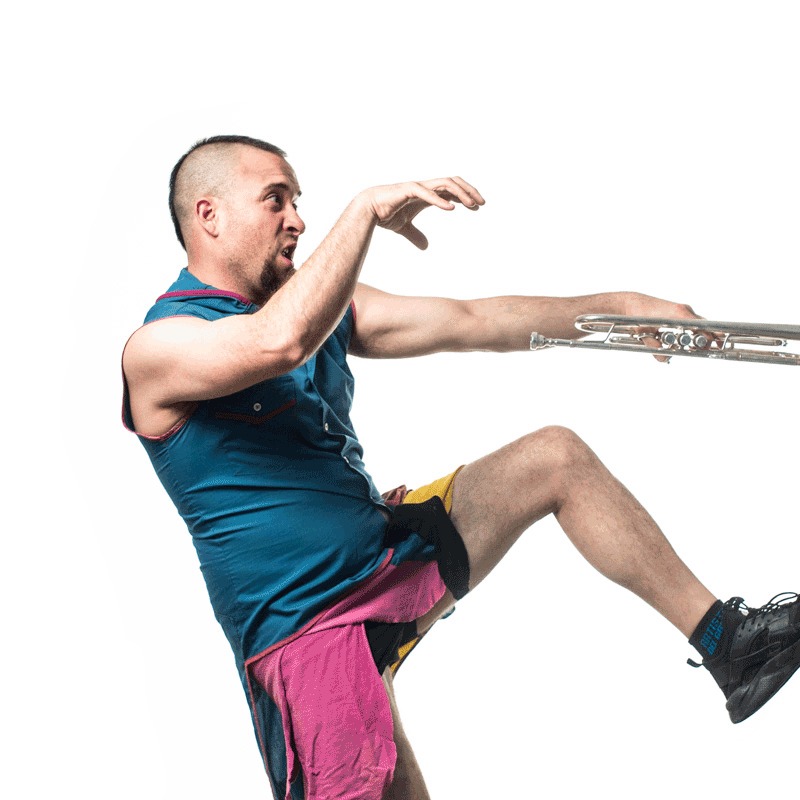 Narciso
I'm the new boy and the best looking in a skirt. I'm a rapper, the flapper kidnaper of the skyscraper, the tapir trapper in a wrapper. You know, motherf…?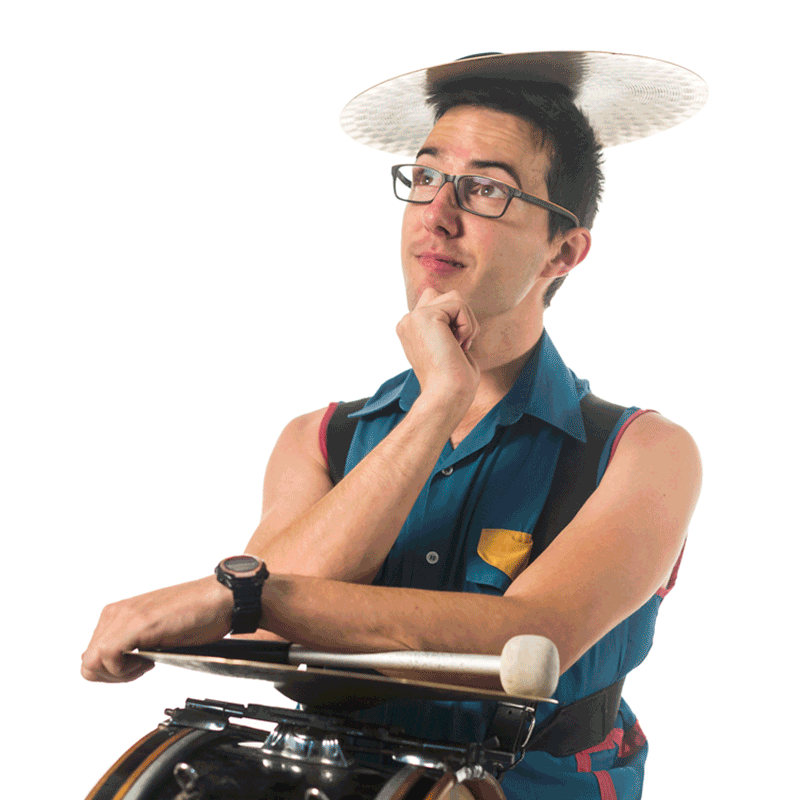 Andrés
When the night falls, I become Katacroquer. When the sun rises, I starve. Oh! And… PUM PUM PUM PUM! ¡PUM CHS PUM CHS!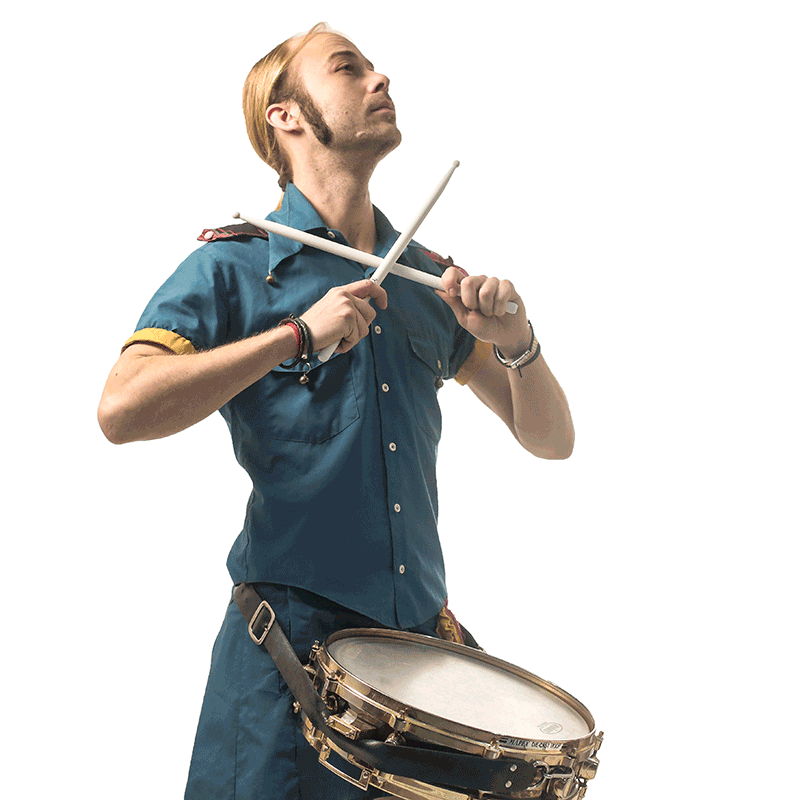 Angelitres
I love beating everything with my drumstick to create rhythms with any metallic object that I find on the streets. My Twitter password is tetera441.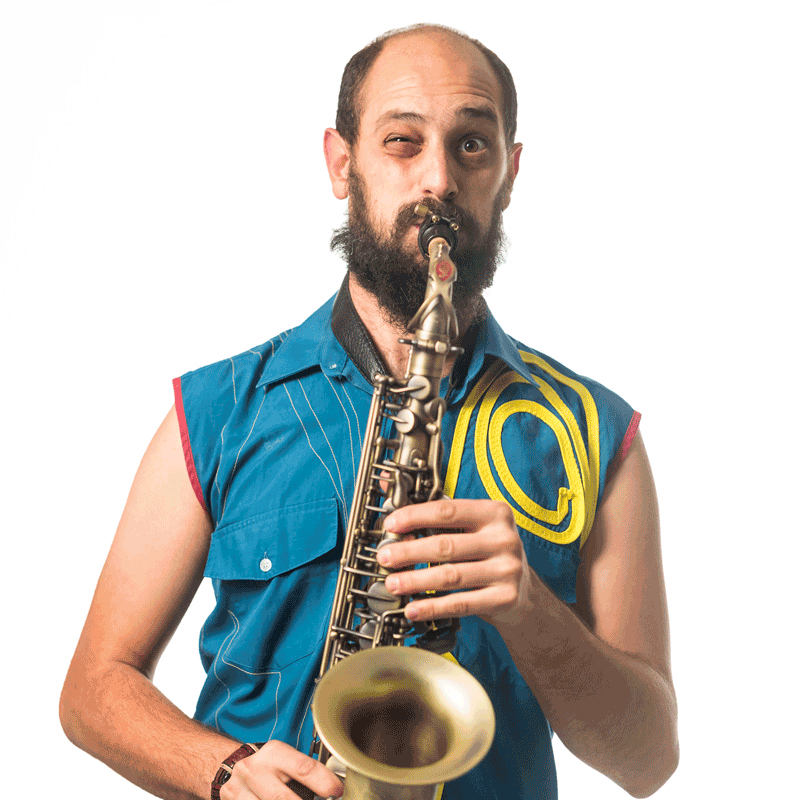 Álex
I am the most sophisticated evolutive result of the band. I'm beardless, but you're looking at my face inverted. My eyes can do X-ray inspections. I see your epiglottis.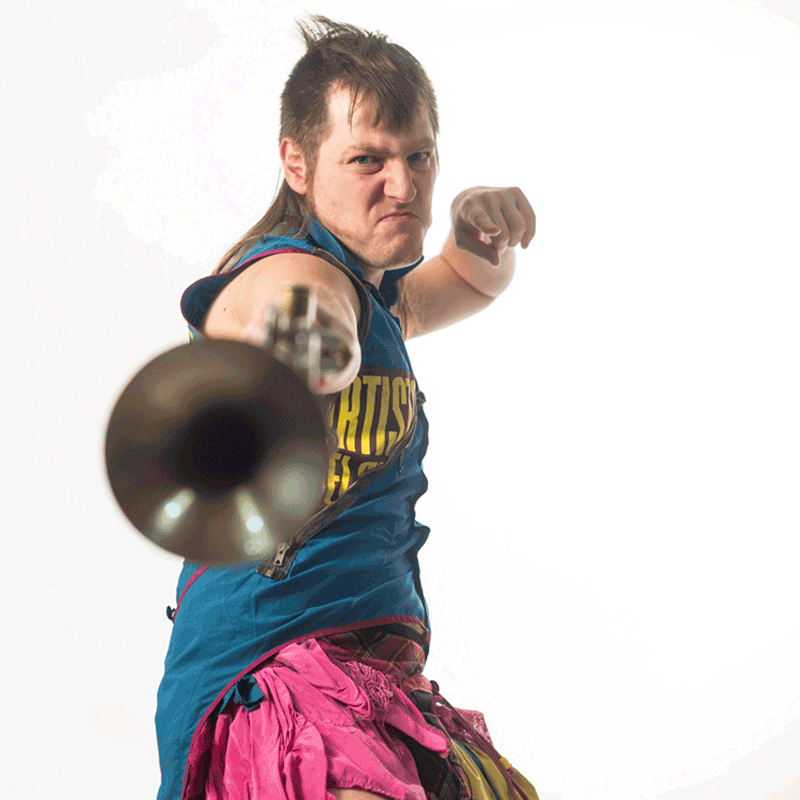 M. A. Laita
I'm the weird hair and crazy hip trumpet man. I'm very exigent with myself and the initials of my name make the word BAD in Spanish: MAL.
After doing a showwe just wish you good night, good morning and… happy stiffness!